48th Annual CMML Fall Conference
---
Date:
Saturday, November 10, 2018 - 9:15pm
Speakers: Ian Burness (Echoes International) & David Reeve (Special Areas)
Time: 10:00 A.M. - 3:00 P.M.
Coffee at 9:15 A.M. Chick-fil-A lunch will be provided
Location: Lincroft Bible Church
790 Newman Springs Road
Lincroft, NJ 07738
Children: Nursery care and a missions-focused children's program, for ages 12 and under, will be provided.
We ask that parents register their children in advance so adequate childcare can be arranged.
Please RSVP by November 5, 2018!
Register at CMML.us/fallconference2018
Directions to Lincroft Bible Church: Follow Garden State Parkway to Exit 109- must use local lanes! 1.5 miles west of Parkway on Newman Springs Road, just across the street from the entrance to Brookdale Community College.
Exit 109 is about 10 miles north of Highway 138, which is the extension of 1-95 coming east from the NJ Turnpike.
About the Theme:
The world is changing rapidly. Areas that were formerly a major missions-focus have been evangelized and have new discipleship needs. Conversely, areas that once were reached now need to be re-evangelized in this generation. This conference will provide a look at the "big picture" of the Lord's work around the world with a goal to help your local assembly move to action and effectively meet the major mission needs and opportunities the Lord has opened up all around the globe.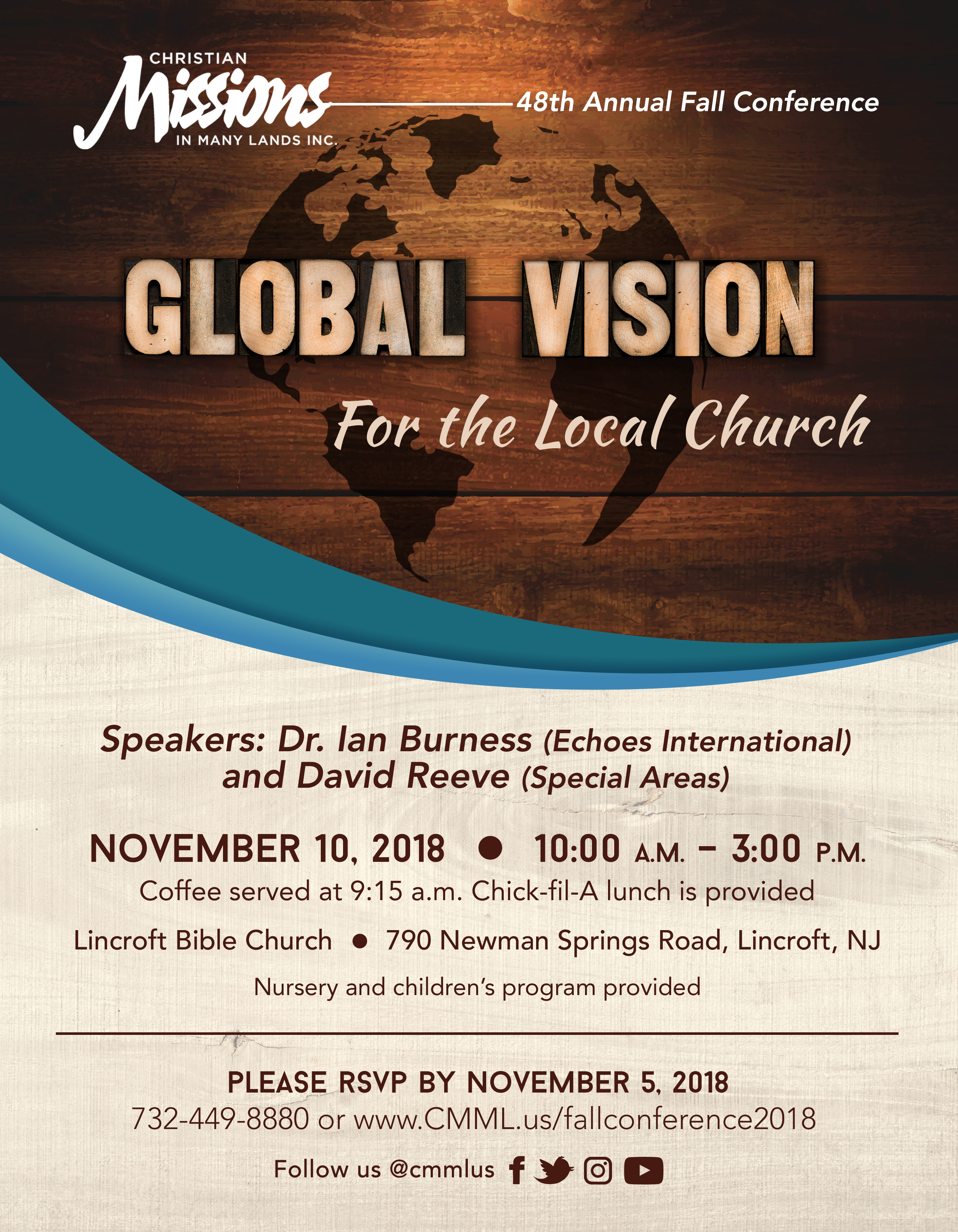 Service Times
Sunday
  9:15AM  The Lord's Supper
10:30AM  Fellowship
11:00AM  Family Bible Hour
11:00AM  Sunday School
  6:00PM  Evening Service
Thursday
  7:15PM  Prayer Meeting
Contact