Friday Night Lights
---
Date:
Friday, December 7, 2018 - 6:00pm
oin us Friday, DECEMBER 7, from 6:00-8:30 p.m. for FRIDAY NIGHT LIGHTS!

This month's special activity is a Gingerbread House Building Workshop! As always, we will have games, snacks, crafts, Bible lessons, and singing.

It is ESSENTIAL that we get an an accurate head count so we can prep enough gingerbread houses. PLEASE let us know how many of your children will be coming by emailing fifthavenuevbs@gmail.com.

These Friday Nights are geared towards kids ages 5 to 12 years old. Children under 5 years old are welcome but must be accompanied by a parent. Parents, as always, are welcome to stay to see what their kids will be doing and learning.

WE HOPE TO SEE YOU THERE!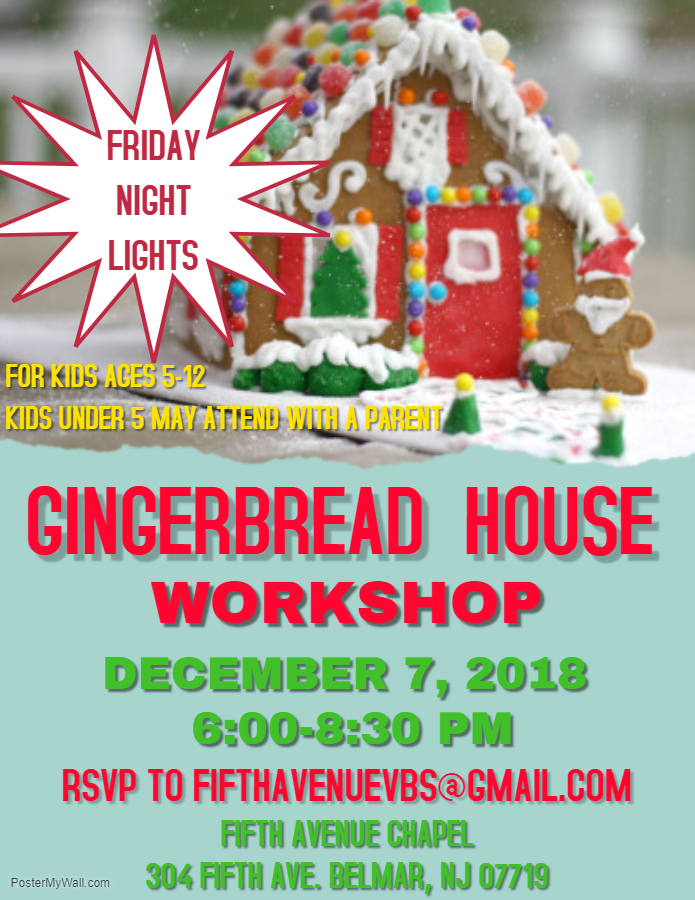 Service Times
Sunday
  9:15AM  The Lord's Supper
10:30AM  Fellowship
11:00AM  Family Bible Hour
11:00AM  Sunday School
  6:00PM  Evening Service
Thursday
  7:15PM  Prayer Meeting
Contact